Recycling is one of the most effective ways of protecting the environment. It helps reduce the need to extract raw materials. The process of extraction (mining, quarrying, etc) can create a substantial amount of air and water pollution.
Besides saving the environment, you save a significant amount of money. Having different types of recycling bins placed in strategic places within your establishment demonstrates your commitment to environmental conservation. It also helps others to keep the environment clean since they can quickly dispose of waste in any of the supplied recycling bins strategically located indoors and outdoors.
The following are some of the different types of recycling bins for commercial use.
1. Single Stream Recycling Bins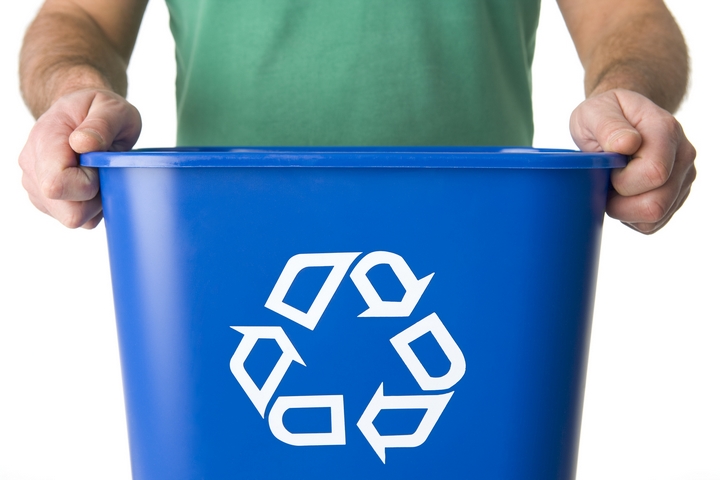 A single stream recycling bin has only one recycling container. All the recyclable items go into this container before being sorted out. A single stream recycling bin is an ideal choice for areas that experience high traffic, or areas that generally experience a fast-paced activity.
With a single stream recycling bin, you do not have to stop and figure out what goes into what slot. A single stream recycling bin ensures all the recyclable items are disposed of in the same recycling bin instead of dumping them in the trash can.
2. Double Stream Waste and Recycling Bins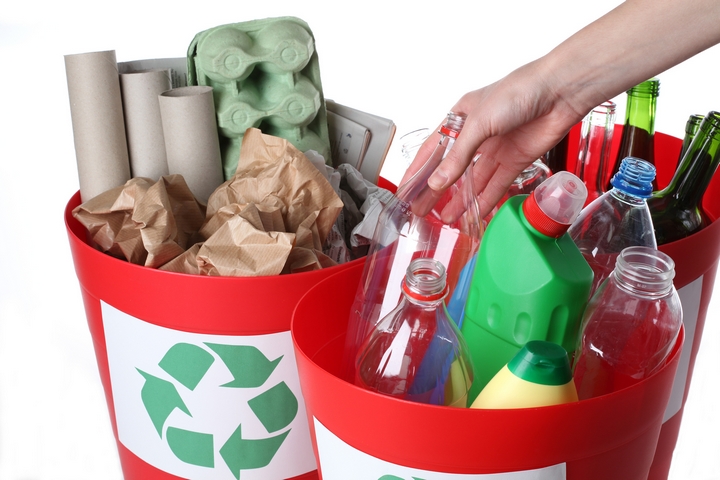 If you want to avoid the hustle of having to sort out the recyclable items from the waste, a double stream recycling bin is ideal for you. It isolates your recyclable items from the waste or compost. A double stream and waste-recycling bin have two containers or slots. Office recycling bins need to have this double stream provision to make sure recycling streams remain uncontaminated.
3. Triple Stream Waste and Recycling Bin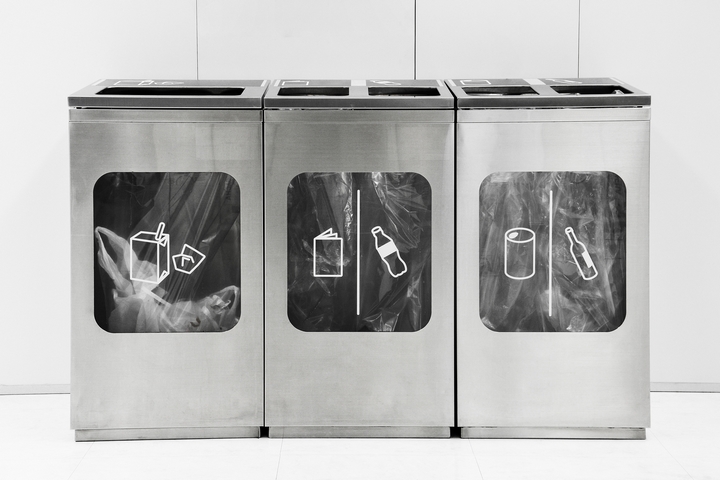 A triple stream waste and recycling bin come with all the benefits of a double stream waste and recycling bin and more. It has an additional container for unrecyclable waste. Having a triple stream waste and recycling bin will effectively boost your recycling efforts without having to divert people to separate waste and recycling bins.
This recycling bin can be placed indoors or outdoors depending on where it is easily accessible.
4. Quad Stream Waste and Recycling Bins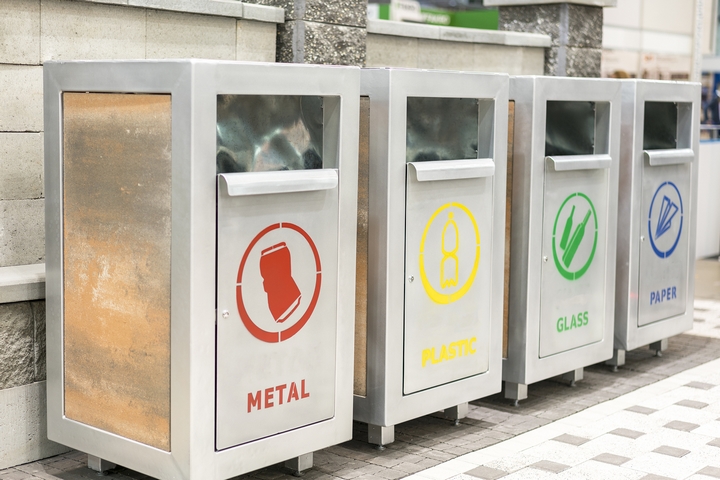 A quad stream waste and recycling bin allow you to pre-sort up to four different recyclables. This bin combines all the waste streams of your business into one so that you do not have to get separate individual recycling bins.
The four streams of recycling bins are for waste, paper, bottles/cans and organics. They are designed to be as unobtrusive as possible but robust enough to handle high traffic and large loads. A quad stream waste and recycling bin are durable and strong, making it an excellent investment for any facility.
5. Tray Top Recycling & Trash Bins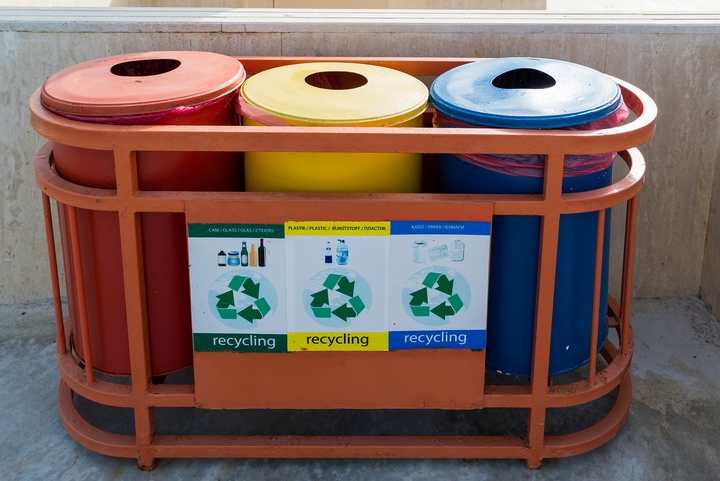 Tray-Top recycling and trash bin are ideal for an indoor high traffic area. When you combine your recycling bins, trash cans, and tray holders into one unit, your staff will be less likely to leave their trays and food waste on the tables. Tray-top recycling and waste bins are convenient for office lunchrooms, cafeterias, and food courts.
6. Automatic Trash Cans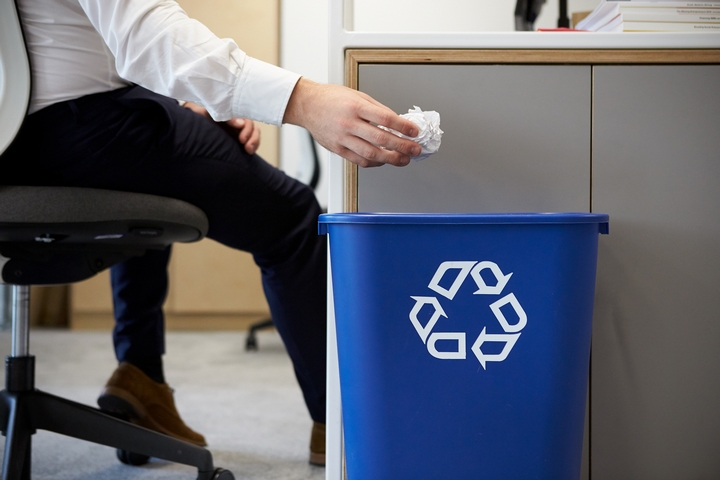 Imagine having a trashcan you do not have to touch, at all. This is arguably one of the most useful inventions to date. The lid automatically opens up as you approach the bin to dispose of waste and then closes when you are done. This way, the odour that the waste materials will be emitting does not get a chance to escape.
7. Lockable Shred Bins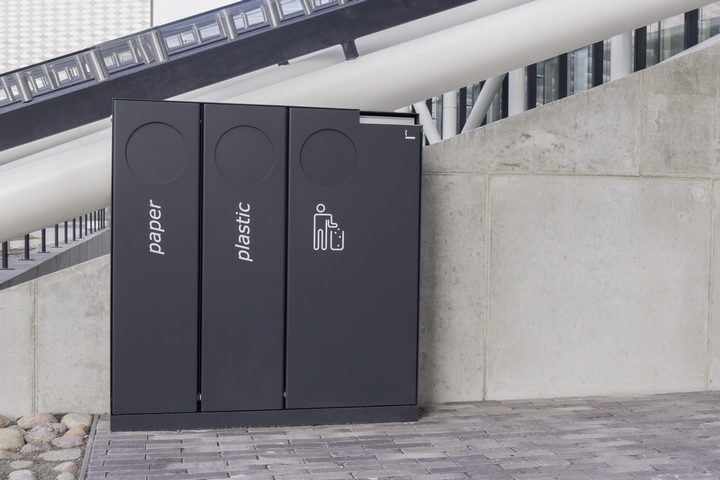 This bin is used to store confidential or sensitive documents before they are shredded. This is apparently because you can lock this type of recycling bin. For an office environment, it is recommended that you use a lockable shred bin.
You can place this type of recycling bin by the desk side in each workstation at the office. This way, you can safely dispose of sensitive and confidential documents without having to shred them immediately. When the bin finally fills up, you can go ahead and take the paper waste to the shredder.
8. Wall Mount Bin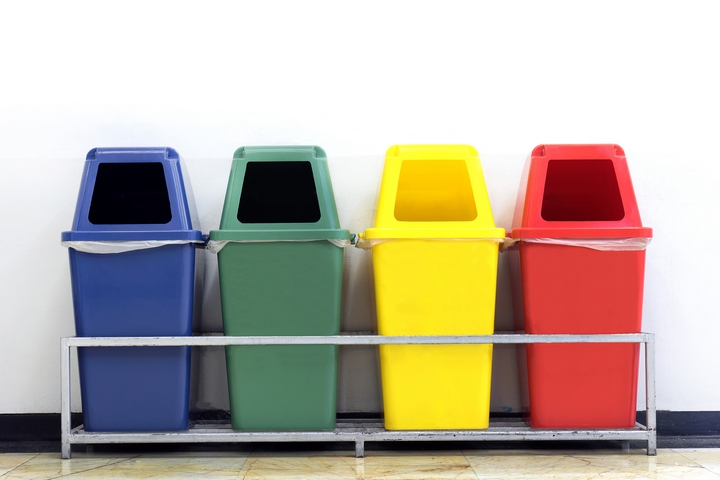 The main advantage of a wall-mounted bin is it helps save on space while keeping the floor area below it clean. These bins come in a variety of sizes and shapes to fit the needs of petite environments. When this structure is attached to the wall, an individual can easily and quickly sweep or mop under the wall mount, improving the general appearance and cleanliness of an area.
Keeping the environment clean and safe is everyone's responsibility. However, without the right waste recycling bins placed strategically for easy access, controlling and recycling waste can be quite the headache. There are so many different types of recycling bins to choose from. They vary in designs, shapes, sizes and materials used to make them. Depending on your individual needs and the environment you are in, there is a recycling bin to meet your needs.