Bangkok is a city flush with absolutely stunning attractions and a unique history to its name. Deciding between what to visit can be overwhelming. Thankfully, we've compiled a quick list of Bangkok attractions we'd say are must-visits and worth having a look at.
1. Chatuchak Weekend Market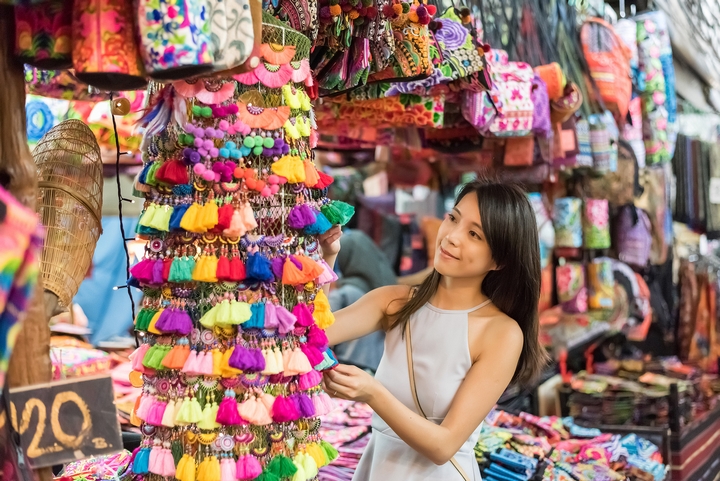 The Chatuchak Weekend Market is not the sort of vibe everyone will love but if you don't mind crowds, loud chatter, and having a massive market on-hand to browse, this is a Bangkok attraction hard to pass up on. The Chatuchak is one of the largest markets in Asia, with 1,000s of vendors. Across its many booths, you'll find rare art, crafts, soap, and numerous souvenirs, making it one of the essential Bangkok attractions you must visit when touring across Thailand.
2. Yaowarat Road
Yaowarat Road is Bangkok's main street cutting through the city's Chinatown. Built in the early 1890s, it's a kilometre and a half in length. Some of Bangkok's easily most delicious street food is found on Yaowarat Road. If you don't know where to go, just follow the crowd. The after-dark atmosphere is when the best eats come out!
3. Siam Paragon
Siam Paragon is Bangkok's greatest mall, although there are several competing commercial districts that could give it a run for its money. The Siam Paragon is immediately recognizable with gold pillars rising up at its entranceway. Inside, you'll find high-end and designer brands, movie theatres, an aquarium, and a wide array of shopping experiences you may not ever expect.
4. Lumphini Park
At 2.5 kilometres in length, Lumphini Park is a massive park with a number of attractions to have at. There are jogging and cycling paths, paddle boats, Chinese-inspired gazebos, wildlife, concerts, and more. Around every corner, you never know what you might stumble in to. Any traveller looking for a calm park atmosphere, this is a quiet Bangkok attraction to lay your head.
5. Wat Arun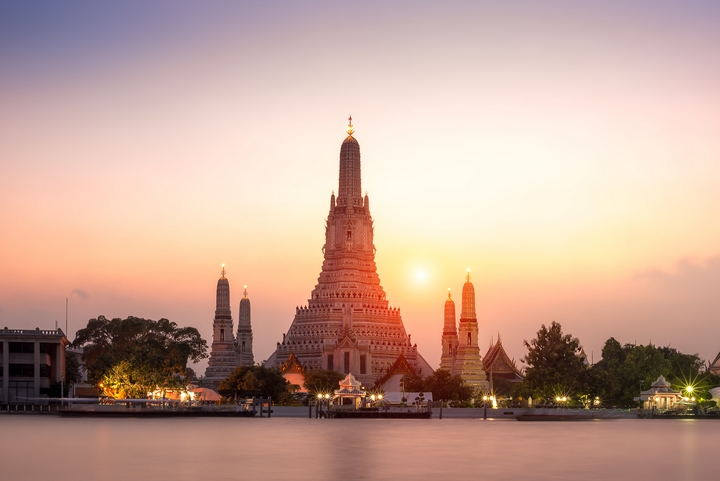 Wat Arun, aka the Temple of the Dawn, is on the western banks of the Chao Phraya River. The temple is home to five towers, covered in porcelain and colorful ceramic tiles. This is one of the best Bangkok attractions for fans of history and those with a desire to consume more of Bangkok's breathtaking architecture.
6. Khao San Road
Backpacking in Bangkok? You can't forget about Khao San Road. This famous Bangkok attraction has bars, street food, plenty of vendors and places to grab a bite to eat, and the cheapest liquor. Budget-friendly accommodations are also common to this area which is why so many flock to Khao San Road. The best time to visit is no doubt at night as things get fun, loud, and alcohol-infused.
7. Jim Thompson House Museum
The Jim Thompson House Museum is comprised of six traditional Thai homes. Bought by Jim Thompson, an American entrepreneur who made Thai silk worldwide recognized, these places are decorated with unique pieces of art across Thailand. His home is one of the top museums in Thailand. Thompson's presence in Thailand is controversial as is his mysterious disappearance in the Cameron Highlands in Malaysia, resulting in a lot of discussion around the meaning of the Thompson House Museum and what happened to him.
8. The Grand Palace and Wat Phra Kaew
The Grand Palace is a breathtaking historical property, found in close proximity to the Wat Phra Kaew. Visiting both, you'll find historic relics inside, nestled in amongst an abundance of Thai architecture. There are more than 100 buildings on the grounds to explore, some European renaissance-inspired and others more traditional.
9. Wat Pho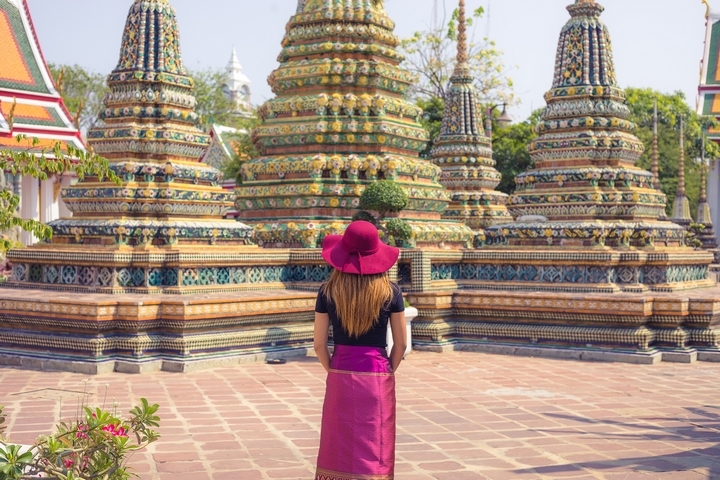 Wat Pho, otherwise known as the Temple of the Recycling Buddha, has a giant Buddha at its center. Forty-six metres high, it has to be seen to be believed. Beyond this sculpture, there are hundreds of images and illustrations, a colorful Chinese pavilion, and a traditional Thai massage school.
10. Rod Fai Night Market
Behind the Esplanade Shopping Mall, the Rod Fai Night Market is a train market in Bangkok. Although hard to reach for some, this night market is a beautiful place to grab some interesting finds, delicious eats, antiques, souvenirs, hipster-esque clothing, and trendy bars and restaurants. Those seeking the trendiest spot in Bangkok, the Rod Fai Night Market is certainly among the names mentioned.
11. Soi Cowboy
Soi Cowboy is a thriving and lively Bangkok district which a hotbed of nightlife ready to be had. There's a lot going on in Soi Cowboy, ranging from unique merchandise to rampant prostitution despite it having been made illegal in 1960. Although Soi Cowboy's street length is only roughly 150 meters, it's worth a visit for anyone seeking an exciting night in Bangkok.
12. Patpong Night Market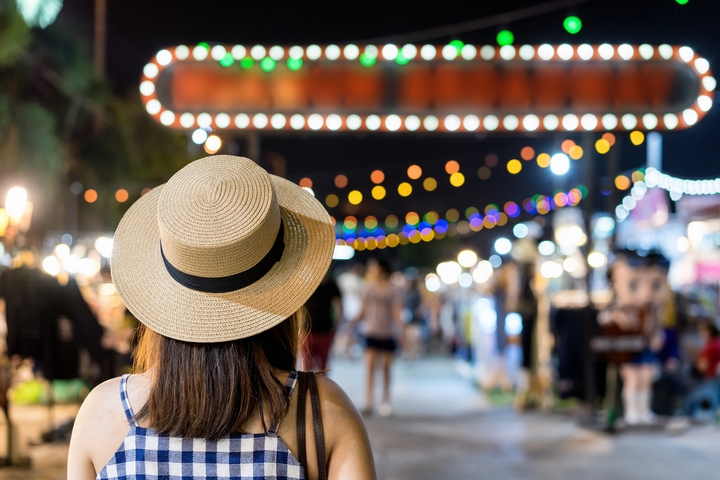 The Patpong Night Market is a notorious hub of stripper bars, go-go bars, and numerous vendors selling a wide array of goods and souvenirs. More and more visitors are coming to the Patpong Night Market these days, which has moved it away from being adult-oriented into a sort of undefined mix of adult-only joints to more kid-friendly fare.
That said, this certainly isn't a market where kids are the norm and for this reason, visitors in Bangkok wouldn't be recommended to bring anyone under adult age.
13. Bangkok Art and Cultural Centre
The Bangkok Art and Cultural Centre is an art gallery perfect for those with an interest in historic-cultural developments. There's no shortage of creativity here with amazing visuals from various periods of Bangkok's history. Inside, there are also many cafes, restaurants, art libraries, eco-friendly souvenir shops, a prayer room, and more.