Not so long ago, artificial intelligence was mostly found in sience-fiction books and movies. Today, it has more and more applications, and it keeps evolving and taking on new forms.
If you are interested in artificial intelligence, whether you know nothing about it or you are already quite knowledgeable, you should read at least one of these artificial intelligence books.
1. Introduction to Artificial Intelligence by Philip C. Jackson Jr.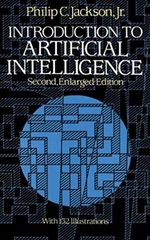 Even though it was written more than 40 years ago, this book is a classic that explores the study of how computers can be made to act in an intelligent manner. It presents us with the results of more than two decades of research, and it answers many fascinating questions.
Considered one of the best artificial intelligence books back in the day, the insightful text is enhanced by plenty of illustrations, photographs and diagrams.
You can purchase this book on Amazon.
2. Artificial Intelligence: A Modern Approach by Stuart J. Russel and Peter Norvig

This book is one of the recommended artificial intelligence books for beginners, as it is easy to understand and covers a broad range of topics.
The authors thoroughly explored the field of artificial intelligence and data mining, and they are sharing valuable information on logic, algorithms, probability, continuous mathematics, and much more.
You can purchase this book on Amazon.
3. Hands-On Chatbots and Conversational UI Development: Build Chatbots and Voice Interfaces by Srini Janarthanam

The title of this book says it all: it will teach you how to use leading tools to build more than 8 chatbots that can be used on different platforms. If you want to learn how to create a chatbot, this is a great book that will teach you all the essentials.
Like many of the best artificial intelligence books, the author shows developers how to design the flow of conversation, how to create chatbots that can perform a specific task, and how to deploy chatbots on different messaging platforms.
You can purchase this book on Amazon.
4. How to Create a Mind: The Secret of Human Thought Revealed by Ray Kurzweil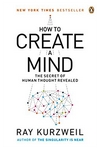 The author of this book is an influential futurist who presents to us the possibilities of reverse engineering the human brain to understand how it works, and to use this knowledge to create better machines.
This book shows us how, in the future, humans and machines will be more connected than ever before, and gives us a good idea of what is to come.
You can purchase this book on Amazon.
5. Conversational Marketing: How the World's Fastest Growing Companies Use Chatbots by David Cancel and Dave Gerhardt

If you own a business, you can rely on artificial intelligence and chatbots to generate leads, and close sales.
This book explains how instant messaging apps have changed the way we all interact, and how we can integrate conversational marketing techniques into our existing marketing operations to give customers exactly what they want.
You can purchase this book on Amazon.
6. Machine Learning by Tom M. Mitchell

This book is a comprehensive textbook that covers all the core topics related to machine learning, which is the study of algorithms that allow computer programs to improve themselves through experience.
The author uses many clear examples and diagrams to make it easier for readers to understand algorithms, which makes this a perfect book for beginners.
You can purchase this book on Amazon.
7. Deep Learning by Ian Goodfellow, Yoshua Bengio, and Aaron Courville

The authors of this book are three experts in the field of artificial intelligence, and the result of their work is seen as one of the most comprehensive books on this fascinating topic.
This one is not for beginners, but for experienced software engineers and university students who are studying artificial intelligence and computer science.
You can purchase this book on Amazon.
8. Artificial Intelligence and Soft Computing: Behavioral and Cognitive Modeling of the Human Brain by Amit Konar

This comprehensive and practical book allows readers to understand and to apply traditional and modern artificial intelligence and soft computing concepts.
It also provides a very clear analysis of algorithms and mathematical models, and it demonstrates their different applications and the ways they can be used to solve a variety of problems.
You can purchase this book on Amazon.
9. Human + Machine: Reimagining Work in the Age of AI by Paul R. Daugherty and H. James Wilson

This book is a guide for business owners who are interested in using artificial intelligence to grow and innovate. Artificial intelligence is becoming more and more present, and we have to learn how to make the most of it.
This book can teach you how to improve customer service by knowing what your customers need, and being able to deliver it to them when they need it thanks to the power of artificial intelligence.
You can purchase this book on Amazon.
10. How to Build a Facebook Chatbot (Even If You're Not a Techie) by Angelo Sorbello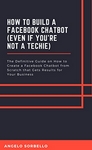 The author of this book did a lot of research and interviewed chatbot experts to be able to explain us how we can build our own chatbot on Facebook Messenger.
Chatbots are here to stay, and developing one can prove to be a great asset for your business. This step-by-step guide will show you how.
You can purchase this book on Amazon.